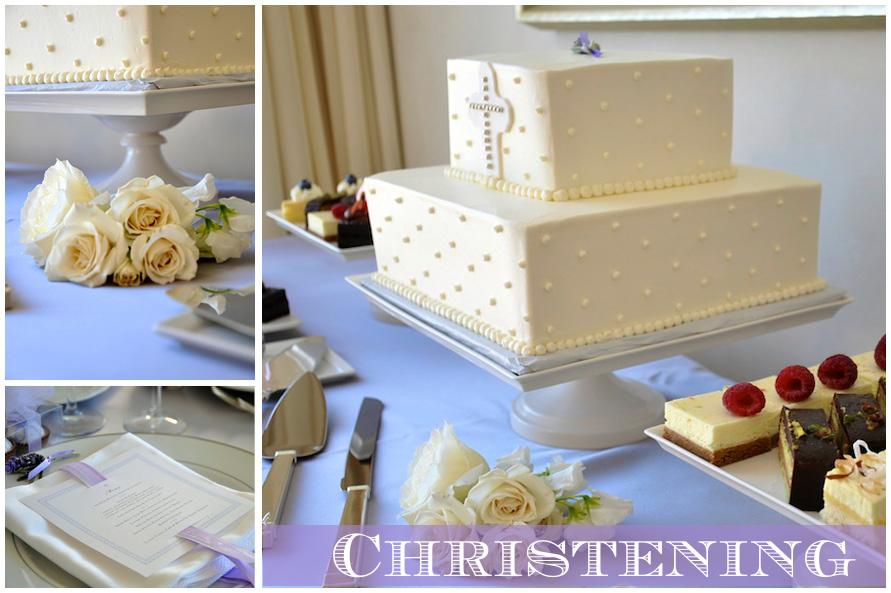 Christening Celebration Food And Drink Overview
What you serve your christening or naming ceremony guests to eat or drink will depend on a number of factors: weather, budget, and number of guests, formality or quite simply, your personal taste. Most christening receptions are held during the day so the food served tends to be a lunch or afternoon tea. You can use a venue with catering, hire a caterer or do it yourself at home.
Food
Here are some of the most often used options, ranging from very formal to relaxed:
Silver service/ plated service
This is the most formal type of meal. It usually involves at least three courses, all of which are served to seated guests individually. You'll need a table plan and will most likely have to choose from set menus. This is usually the most expensive option but does add a touch of luxury and grandeur to the proceedings.
Sit down buffet
This can be formal, using a seating plan, or more casual with open seating. Typically, starters, desserts and coffee are served at the table with the main course being a self service buffet. However, it can be less formal with all courses being available from a buffet. The buffet itself can either be hot, great for winter events to warm up after a chilly church service, or cold with light meats and salads, ideal for a summer lunch.
Fork buffet
This is a less formal option as the food is designed to be eaten with a fork only. It's ideal for parties where there is less space as people eat while standing or on their laps. The foods can be hot or cold, but the key is for it to be eaten easily without a knife.
Finger buffet/High Tea
This informal option is also one of the most economical. The food is designed to be eaten mostly with fingers and usually includes sandwiches, quiches, cold pies, pastries, cakes and fruit. It's perfect if space is limited with standing room only or if you have many children as guests. If doing the catering yourself, it's also easiest to prepare in advance without any last minute heating.
Afternoon tea
These lovely, old-fashioned, traditional teas are usually served mid afternoon. The food includes dainty sandwiches with fillings like cucumber, egg and cress, and smoked salmon plus a selection of scones, cakes and pastries – ideally served on a tiered stand. Tea should absolutely be served from a teapot with fine china used if possible!
Canapés
These are hot or cold bite sized morsels usually served from trays, designed to be eaten without plates or cutlery. They're ideal if you hire waiting staff (or if you manage to rope in some older children or friends to act as servers!) They are not usually a substantial meal so are suitable if you're only planning a short reception, or as a filler before the start of the ceremony or before a larger meal is served. They're often served along with a glass of champagne.
Barbecue
This is a relaxed, contemporary take on a traditional hot buffet. They tend to be more sociable and can offer a focal point. Although they are offered by some venues, they're often the preferred choice for celebrations at home. Hog roasts are a popular alternative. You can either do it yourself or hire a caterer. Three notes of caution: have a wet weather plan (or at least an umbrella for the chef!); expect to spend hours preparing the food, only to have the chef get all the glory; and finally, if you're doing it at home, make sure you have a reliable chef who won't poison your guests or cremate the food!
www.christeningessentials.com
#christennggowns, #christeningoutfits