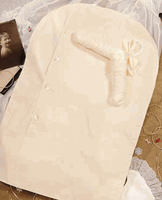 Preserving Your Christening Gown or Outfit
No matter what the cost of the Christening garment, it will be cherished and saved. While plastic and vinyl provide a covering to the garment and a nice display the helps sell the item, you should understand that long term storage on a plastic hanger or in a plastic bag will cause your special garment to become yellow and deteriorated. Special care should be given any garment that is to be preserved.
There are two ways to preserve a garment. One is to have it cleaned and sealed into a container at a high quality dry cleaner. This process is not only expensive, but it makes the item inaccessible to view and enjoy. Additionally, once the seal is broken, the process must be repeated to continue the preservation.
The important elements of preservation can be achieved without the cost and inaccessibility of sealing the garment. First, the garment should not be in contact with any petroleum products. This includes zippers. Second, the garment should be kept from any chemical contaminants often present in many fabric bags. Third, dust and excessive light should be kept from direct contact with the garment.
The Heirloom Preservation Bag offered by Christening Essentials is made of 100% unbleached muslin and is free of any petroleum or chemicals. It contains a wide buttoned overlap so as to keep the garment free of dust and separated from any plastics. The provided hanger is also made of unbleached material. The base of each bag is extended so special accessories can be placed in the bag as well. The total package is intended to provide the best possible scenario to be found to preserve special occasion garments.
The Heirloom Preservation Bag provides the best alternative we can recommend for long term storage. Any customer wanting to store and maintain a special occasion item will want to consider the Heirloom Preservation Bag.
www.christeningessentials.com
christening gowns, christening outfits