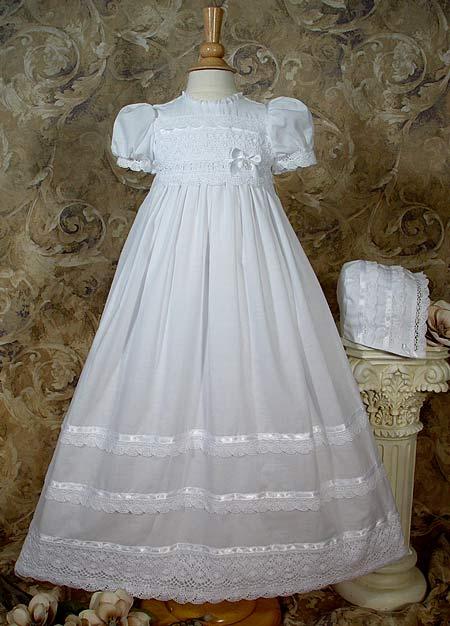 Christening Gown Trends
Increasingly popular is a return to what was. The Christening gown is of no exception when it comes to following the trends. This trend is especially evident in clothing and furniture as individuals opt for distressed and antique finishes, or flashback clothing that reminds you of hideous outfits you used to wear. Your baby's Christening gown should be an extension of your baby, your family and your faith; therefore, it is ultimately up to you whether or not you follow what the "experts" say is the hot new trend.
Traditionally, a Christening gown was made up of many layers because one layer was used so that the baby's name could be embroidered on the inside. The gown would then be passed on from generation to generation and each baby's name would be embroidered on the inside. If you are considering purchasing a Christening outfit or gown for the purpose of passing it down throughout the generations, then this idea is a beautiful sentimental reminder of babies who have all worn the gown in the past.
Most gowns today are white, however, you will find some gowns that have colors added to them in the form of pink ribbons, or blue bows. If people have trouble distinguishing whether your baby is a boy or girl, then a touch of color might help eliminate that annoying question!
Also popular is a christening gown that is hand tailored with material from the mother's wedding dress. If you are not too attached to your dress then this idea is perfect if you are creating a Christening outfit or gown that is to become your family heirloom. Tailors can add elegant laces, soft fabrics and heirloom sewing techniques to make the gown a unique entity that will be part of your family for years to come.
Whether the Christening gown is made of Cotton Swiss Batiste, Swiss Organdy, Irish Linen, Silk Batiste, Silk Organza or English Netting, you are bound to fall in love with the finish and texture of the material. These fabrics ensure the gown looks fit for a prince or princess. If you happen to come across Christening outfits made from these materials, rest assured you are getting the best money can offer.
A baby's Christening Day is important on both a spiritual and social level. Finding the right Christening gown is not that difficult as there are a variety of stores offering and gowns to suit any style and any budget. Consider opting for a Christening dress or gown that can become an heirloom piece and start your own trend within the family!
www.christeningessentials.com
christening gowns, christening outfits