Saturday, October 01 2016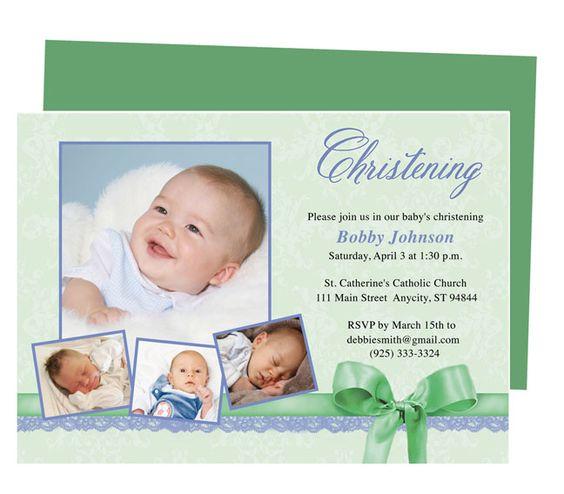 Christening/Baptism Ceremony Invitation Wording

So you've decided on everything for your young one's baptism. The venue, the guests, the food, everything! The only thing left (and probably the most important) is sending out the invites. And it needs to have the best wording. Read the following samples for some ideas.

1 - We invite you to share our joy as we baptize our precious daughter (name). Please bring your family along to (place) on (date) at (time) and join us for lunch after the ceremony.

Looking forward to seeing you,
(name of father and mother)

2 - Mr. and Mrs. (name) are delighted to inform you that their lovely daughter (name) will be baptized on (date). The ceremony will take place at (place) at (time). Lunch will be served after the ceremony.

RSVP - (contact details of parents)

3 - God has blessed us with a wonderful baby boy (name) whom we will be baptizing on the (date). We request your presence on this joyous occasion at (place) between (start time of ceremony) and (end time of ceremony).

Please do join us for a short snack thereafter.

Thank you,
(names of parents)


4 - "We prayed for this child and the Lord has granted us what we asked of Him." 1 Samuel 1:27

We thank the Lord for the lovely baby girl (name) that He has blessed us with. As we baptize her on (date), we wish you to join us at (place and time) and celebrate this glorious occasion and also for a light meal afterward.

(names of parents)

5 - The Lord said, "Let the children come to me. For to such belongs the Kingdom of Heaven." Matthew 19:14.

Join us as the Lord welcomes our lovely baby boy (name) into His Kingdom on (date). The baptism ceremony will begin at (time and place). Do linger for a short brunch thereafter.

The Lord be with you,
(names of parents)

These were some samples that you can use while writing out baptism invites. Use pretty stationery and personalize the invitations by getting your baby's picture(s) printed on the invites. May God bless your little one!

www.christeningessentials.com
christening gowns, christening outfits