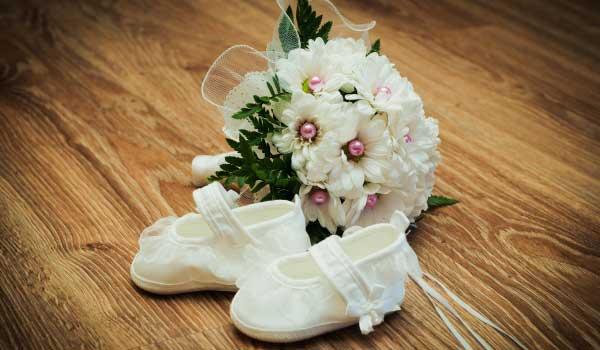 Where to Hold Your Baby's Christening
Much like a wedding, a christening or naming ceremony isn't just about the ceremony. It also includes a party – or reception – afterwards. It's a chance to catch up with friends and for everyone to meet your baby. It can be a simple afternoon tea with cakes right through to a three-course sit down meal. The question is where to hold it?
For church ceremonies, it's best to use a reception venue that's easy to reach from the church, either by foot or car. Many people use their local church for the ceremony making their own home, local pub or restaurant obvious venues. But options like nearby hotels, golf clubs or even outdoor spaces like a beach or park could be used. The key is to make it close to the church so that guests don't have to drive a great distance.
Naming ceremonies using a registrar usually need to be held in an approved venue. Very often these are hotels or golf clubs, which means the reception, can be held in the same place as the naming ceremony. If you're not using a registrar, you can hold the ceremony and reception anywhere, including your own home. However, bear in mind that the celebrant might have to visit in advance to check for health and safety purposes.
Number of Guests… And Don't Forget The Weather!
Who do you want to invite? Is this going to be a small family gathering with just your close friends? Or is it a chance for the entire extended family, neighbors, friends and baby group buddies to get together?
The number of guests you have will largely determine where to have it. Unless you have a very large house and garden, holding a reception at home for a big group is probably not a great idea. Equally, hiring a large reception hall for a handful of people to rattle around in will make the day feel awkward.
Find a space that fits the number of guests you'll have. Don't rule out restaurants, hotels or golf clubs if you have a small party – many of these venues have small, private dining or function rooms. Call around to get minimum and maximum capacities allowed. Equally, don't think that just because you have a large party you can't go to your local pub - you might be able to hire it out for the afternoon. But don't expect to be able to squeeze a big group in comfortably while sharing it with regular Sunday lunch-goers.
If you're holding a naming ceremony, consider whether the ceremony takes place in a separate area or if you'll need to convert the space for the reception afterwards. And if you're planning on holding the ceremony at home, think about using a marquee to expand the useable space into the garden.
Wherever you choose, remember the changeable weather. Do you have a wet weather back up plan and equally, do you have shade – particularly for older and very young guests – on a hot summer's day? If you're having it at home, do you have outdoor shading, rain cover and might you need heaters? If you're using a venue, how far in advance do you need to let them know about a change of weather plan?
www.christeningessentials.com
christening gowns, christening outfits