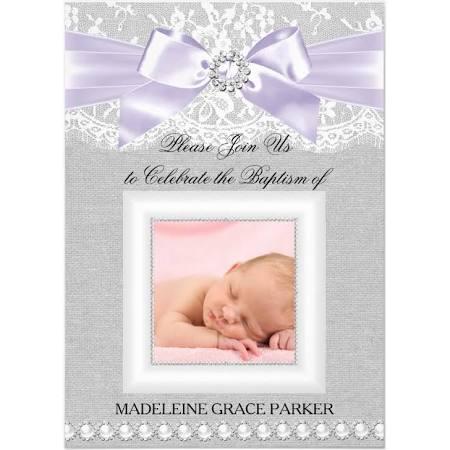 Should You Send Christening/Baptism Invitations?
Have you decided yet if you are going to send out christening or baptism invitations? This is a once-in-a-lifetime celebration and deserves to be announced in formal style.

Christening/Baptism invitations provide your family and friends with all the details of this once-in-a-lifetime event making them an important part of your planning. Shopping online and having them printed by a professional printer will ultimately save you time so you only have to address them for mailing to your guests. Online invitation websites typically have a nice selection of christening and baptism invitations.

TIP – It's usually cheaper to initially order a few more invitations than to have to order more later. Additional christening/baptism invitations can be used for extra guests not originally included in your count, and be sure to save at least one of the invitations as a souvenir. It can be framed, placed in a memory album or added to your baby's scrapbook.

Here are the details to include on your christening or baptism invitations.
Baby's Name
Parents' Names
Date and Time of Baptism or Christening Ceremony
Name and Address of Ceremony Location
Time and Location of Reception (if separate from ceremony)

If you are planning a formal celebration and inviting quite a few guests, you might want to include some type of RSVP on the invitation to help in your seating and food planning. This can range from placing your phone number at the bottom of the invitation to actually including a separate response card that would be mailed back by your guests. When ordering baptism invitations through a professional printer, some of the formal styles may have a matching response card available. If you do include a response card with your invitation, be sure to place a postage stamp on its accompanying envelope as a convenience to your guests. Your address will already be printed on the envelope for return mailing.

Thank you or informal note cards are sometimes also available to match your invitations when ordering from a professional printer. Informal note cards will have your baby's name printed on the front with the inside being blank for your handwritten thank you note.

This is a once-in-a-lifetime occasion for your baby so you'll want to formally announce all the details to family and friends with special christening or baptism invitations. Remember to save one as a lasting keepsake for you and your baby.
By Sara Haese
Published: 3/18/2007
www.christeningessentials.com
christening gowns, christening outfits