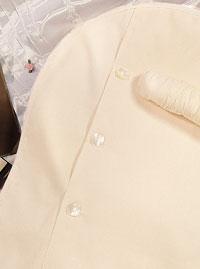 Making Christening Gowns And Christening Suits A Family Heirloom
Christening gowns or Christening suits are possibly one of the most gorgeous baby items that you will buy for your baby. It is a very special purchase that will commemorate one of baby's most important days. A Christening is an incredibly special occasion to celebrate, what can be more important than presenting your baby to the Lord for his or her Christening?
This day will celebrate the gift that God has given to you in this new baby, and it is definitely a day to rejoice! When considering purchasing Christening gowns you will also need to consider if you want to make this article of baby clothing a family heirloom. If you plan on having more children, do you want a gown that is unisex or would you consider buying another Christening outfit if you have a baby of the opposite sex next time? And, is the style that you have chosen a classic style? Is it a "timeless" design that can easily be passed down to grandchildren and great-grandchildren?
If Christening gowns or suits are dry-cleaned and or preserved properly they can actually last for generations to enjoy! After all the excitement of Christening day is over it is important to consider the following when preserving your Christening outfit:
The vinyl bags that Christening gowns usually come in are not the best storage vessel for your heirloom gown. The chemicals in plastics leach into fabrics and can cause terrible damage over many years. Textiles need to breathe if you want them to last for many years and don't want them to fade or turn yellow. Tissue paper is not ideal unless you are absolutely positive that it is acid-free.
The best and safest way to store your Christening outfit is to store it in a 100% cotton storage bag; if you are too busy to shop for this specialty item then a cotton pillowcase slipped over the hanger will suffice for this purpose too! Make sure that the bag does not have metal snaps or zippers as they can possibly corrode, and why take a chance of having such stains appear on your precious piece? Remember to use a plastic or rubber coated hanger too, as metal hangers can also stain delicate fabric.
Make sure that Christening gowns are clean before you store them in your cotton storage bag. If they require hand washing do so with laundry soap such as Ivory snow, (do not use a detergent soap). Make sure you thoroughly rinse the gown and give it a final rinse with distilled water. Hang it to dry, press and place it in your cotton bag. Remember to store your Christening outfit in a cool, dry area. Never store it in an attic or a basement where a cool and damp atmosphere can encourage mould to grow.
If you take the time to include all of the above preparations in when storing Christening gowns you can be sure that many generations of your family will be able to enjoy it as an heirloom outfit!
About The Author:
Julia Mahler is a successful author and the talented publisher of many websites, a1-baby.com included! Providing a wonderfully researched resource for your babies needs including; baby products, strollers, baby bedding, safety, infant clothing and specialty baby items.
www.christeningessentials.com
christening gowns, christening outfits