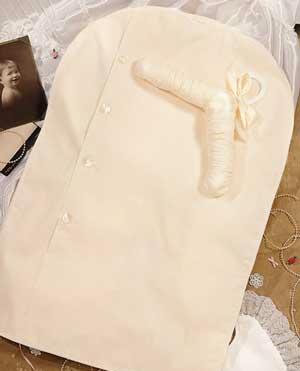 Preserving an Heirloom
Most of Christening Essentials items are tagged with a notice about our heirloom preservation bags. We stock these bags as a service to our customers. The plastic vinyl keepsake bags we ship in are great for display, but can actually promote discoloration over an extended period. Our heirloom preservations bags have been developed through consultation with archivists on the best way to store heirloom clothing articles. Archivists indicate that the sealing technique done by dry cleaners has little advantage over an heirloom preservation bag option. An heirloom preservation bag not only preserves the item but leaves it accessible for show and reminiscence.
Christening Essentials offers the bags in two sizes for christening and communion articles. Our bags are developed to address all three important elements of preservation; (1) light contamination, (2) dust contamination, (3) chemical contamination. The heirloom preservation bag will minimize yellowing and other problems to the best extent possible.
christening gowns, christening outfits