Saturday, October 10 2015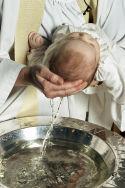 What does a christening involve?
A christening is a Christian blessing which usually involves baptism. And baptism refers to a ritual where a person (in this case a baby) is initiated into the Church congregation when water is sprinkled or poured over the head of a baby – or, in some cases, when the baby is immersed in water for a second or two.
Baptism usually represents the cleansing of original sin from the baby, and the initiation of the baby into the first of various sacraments of the church in which they are christened. Parents and godparents accept responsibility on the baby's behalf, for the child's acceptance of the beliefs of the Church.
Baptism has been used in most Christian christening ceremonies, inspired by Jesus own baptism in the River Jordan at the hands of John the Baptist. However, several Christian groups (eg Quakers) don't practice baptism in a christening.
Baptism of adults is a very old ritual that has existed in various forms in such religions as Judaism for many centuries. While it became part of Christian ritual in the very early days of the church, other religious groups in the first and second century that used baptism included Gnostic spiritualists, rabbinic Jews and Essene sectarians.
However the first mention of infant baptism comes from the early Christian writer Tertullian, circa 200AD, so most scholars believe infant Christenings started during the second century AD.
In some churches, a blessing ceremony is held for a new baby but another ceremony similar to a christening occurs when a child is old enough to speak for themselves.
In most cases, a male and female godparent is chosen by the parents. It's quite an honour to be asked to be a godparent – and it's a role that carries differing levels of responsibility depending on the church. Generally that person would be a practicing member of the church into which the child is christened.
In many cases, the Church will require parents (and also sometimes, godparents) to receive some instructions before the ceremony. You might be required to have a personal session with the priest or pastor or perhaps to attend one or several organised classes.
Do check with the church as soon as possible, what is required beforehand.
www.christeningessentials.com
christening gowns, christening outfits