Wednesday, January 22 2014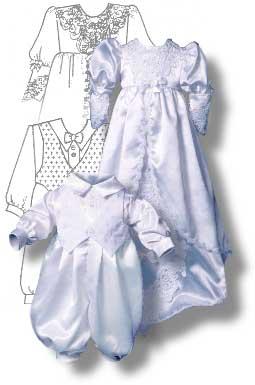 Christening Outfits: Knowing Your Options
Christening outfits are available in a wide array of styles and designs. They could range from simple and plain white gowns to more stylish and stunning gowns that are oftentimes accentuated with pearls and laces. For boys, the choices could be between simple and more traditional suits.
When it comes to shoes or booties, it is advisable to pick something that is soft and comfortable for the baby's delicate little feet. Most booties come with soft elastic band and are oftentimes covered in silk ribbon to provide a better fit. Meanwhile, shoes often come in various decorations, the most common of which is a cross that is embroidered on the sole.
Shoes always come with socks so this item should not be left out as well. When choosing socks, make sure that they match perfectly well with the gown. Some socks for girls are trimmed with colorful laces and accented with pearls and satin ribbons, while white anklet socks for boys are oftentimes embroidered with special symbols such as a cross.
Hats and bonnets can also help complete a christening outfit. A baby's head is extremely delicate, and to give them the best protection, have them wear beautifully-designed hats and bonnets. These accessories often come with an elastic band to give them a snug fit, so that they won't easily fall off. These items, along with bibs, tights, blankets, bracelets and headbands for girls, all complete a christening outfit. Dressing up your babies in complete christening outfits will make them more lovely and adorable from head to toe.
www.christeningessentials.com
christening gowns, christening outfits