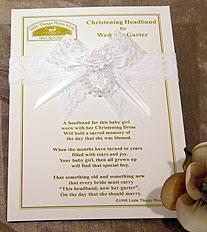 Christening Gifts for a Baby Girl
As a Christian, a christening or baptism is your baby's first initiation into the faith. It is also an opportunity for family and friends to join together and meet the new baby. It is traditional for attendees of a christening to bring gifts for the baby. Typically, these gifts are religious in nature and can be keepsakes that the child will cherish for life.
Personalized Bibles
Bibles are a traditional and appropriate way to celebrate a little girl's christening. Parents can read the Bible to the young baby, and when she's older, she can use the book herself. The Bible can be customized for an extra-special gift. Try gold-leafing the pages, inscribing the girl's name on the cover or binding the book in rich leather. Be sure to write a special note on the inside cover so that the little girl will always remember who gave her the gift.
Trinkets and Keepsakes
For a treasured gift that will last a lifetime, choose from a wide variety of Christian-themed trinkets and keepsakes. Jewelry is a beautiful option for little girls. Delicate gold crosses, monogrammed bracelets, rosaries or sweet, engraved lockets are a lasting way to celebrate the special day. Soft, cuddly items like blankets and teddy bears will be adored by the baby immediately and cherished for life. Customize these pieces by stitching or embroidering the child's name onto the blanket or bear. An ornate picture frame with a shot from the special day is also a lovely way to remember the christening.
Monetary Gifts
While trinkets and Bibles may be treasured, monetary gifts are always useful and can be a much appreciated contribution to the baby's future. Be sure to select an elegant greeting card in which to enclose your money. Many parents will have college funds or special savings accounts already set up for their child, so ask if there is a fund to which you can make a donation. Give as much as you are comfortable with and don't feel pressure to overspend, as christening gifts are simply a celebratory gesture from the heart
www.christeningessentials.com
christening gowns, christening outfits